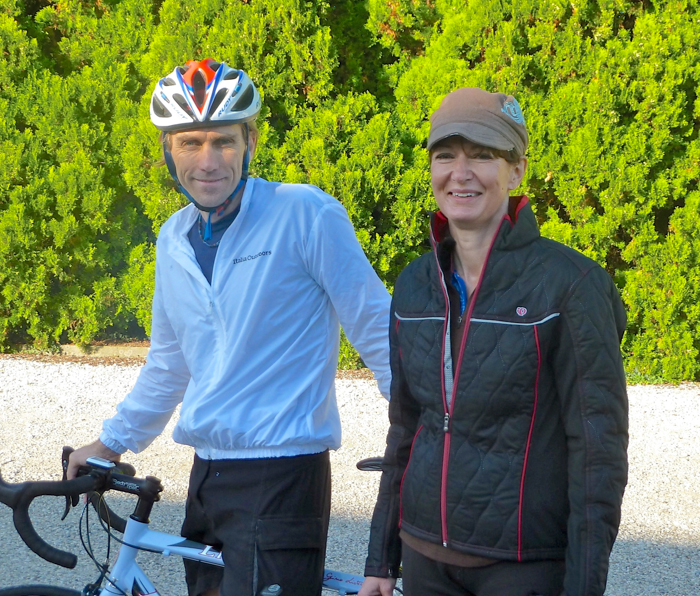 Italiaoutdoors Food and Wine is a pair of individuals who are committed to providing our valued guests with unique private recreational programming in Northeastern Italy. Italiaoutdoors was founded in 2006 by recreational programming expert Vernon McClure. Vernon, author of the on line recreational travel guide of Italy, Italiaoutdoors, has over 20 years of experience offering unique active tours, offering a full-immersion experience in the regions of Northeastern Italy. In 2010, Kathy Bechtel founded Italiaoutdoors Food and Wine, with the goal of complementing Vernon's expertise with in-depth explorations into the amazingly diverse food and wines that we discover along the way.
We both share a passion for a healthy lifestyle - one that combines enjoyable activities, a sharing of great food and wine, and the constant opportunity to learn and grow. Our programs are small, personally designed by us, and individually adapted to our guests' fitness levels and interests. We lead each tour ourselves, preferring to offer a few unique trips with exceptional service rather than expand our offerings. We design programs for biking, hiking, skiing and walking. While we offer a few scheduled trips, we enjoy the opportunity to provide private tours at your schedule for small groups of 4 to 12. With private programming, we can support tours of varying durations and budgets. We take considerable pride in providing an exceptional level of quality, personalized service,and a great value for your vacation dollar with each and every one of our tours.
Our Travel Style
Regional expertise and enthusiasm
We have made a conscious decision to focus our energy and adventures in Northeastern Italy. While this may cost us some business, we prefer to offer fewer tours with a high level of regional focus and knowledge and the ability to adapt to the interests and desires of each individual group. Our local expertise and our passion for the regions we explore allow us to capture the enthusiasm and spirit of adventure we find in every group, and create a memorable vacation experience in which well-planned routes can spontaneously adapt to uncover the hidden treasures and traditions we pass on our journey.
Authenticity and intimacy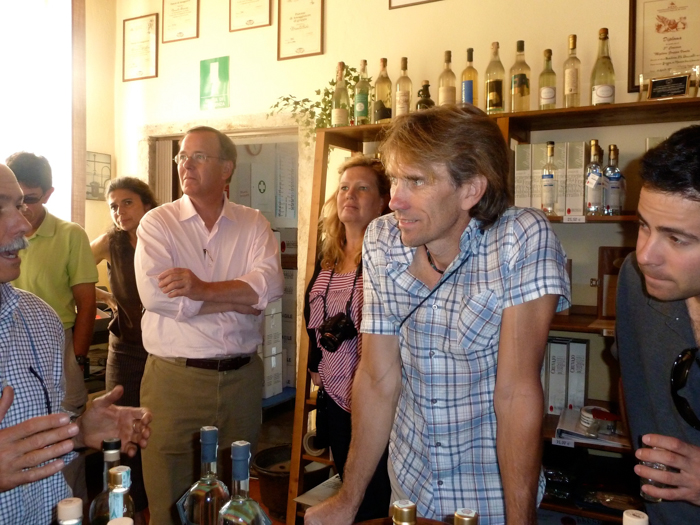 The concept of Italy as a single country belies the actual reality - Italy consists of many regions, with incredibly diverse cultures, histories, natural topologies and cuisines. An authentic Italian adventure necessitates immersion into the regional traditions and the individual communities we visit. True authenticity requires regional expertise and relationships. Our small group size enables us to visit and interact with the local purveyors, artisans and producers in an intimate and non-threatening manner. On each visit we gain insights into their traditions and culture, an appreciation for their craft, and a few new friends who have taken the time to share their unique stories with us.
Responsibility and safety for our guests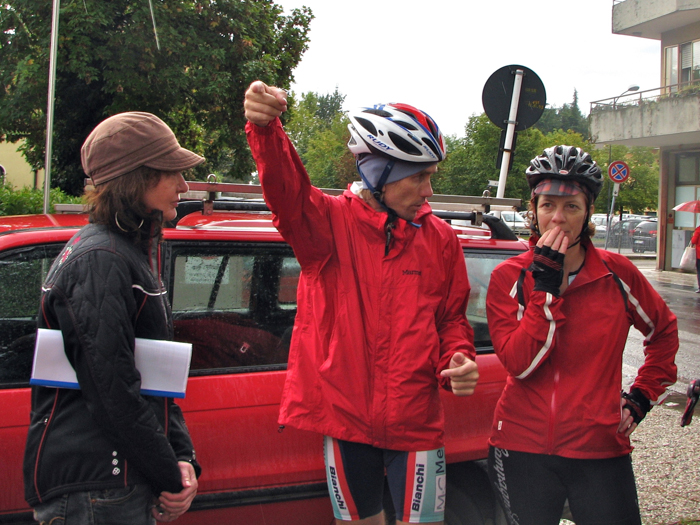 We prefer to travel in small groups of no more than 6-12 people, and we encourage private parties of family or friends. We find not only that this fosters an incredible sense of camaraderie among the participants, but it also creates a group dynamic in which everyone's enjoyment, well-being and safety is paramount. No individual should feel stress or pressure to keep up with the group, nor be pushed to take on more than they can handle. Our small group size and Vernon's many years of professional recreational programming experience, including safety and risk management training, insure our tours can challenge you when you wish, but never overwhelm. Leave stress at home - you are on vacation!
Responsibility and safety for our hosts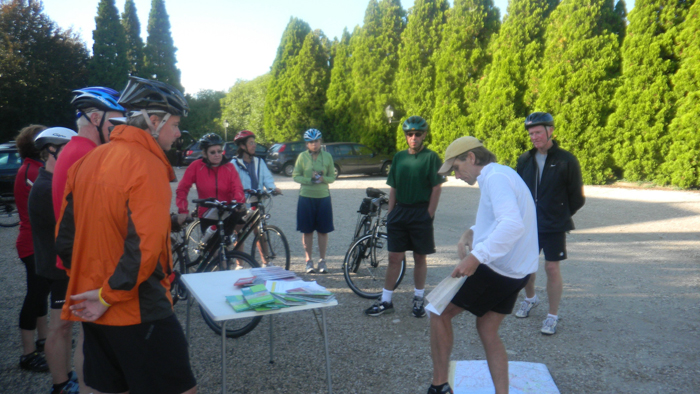 We feel extremely grateful to our Italian hosts for the warm hospitality they demonstrate to us and our guests during our adventures. We feel a keen responsibility to respect their home and communities during our travels. You can call this "Responsible Travel"; we just call it business as usual. When available, we prefer to use public transportation for our transfers, such as buses or trains. When not possible, we will arrange for local private companies to assist; we engage local businesses for all support services. Vernon's bike routes follow local club ride routes or bike paths; when riding through cities and towns we follow all traffic laws. Hiking and walking routes follow official trails. When selecting lodging, we opt to use local hotels, preferably those who have expressed a commitment to energy-efficient standards. Our choices for dining include those neighborhood trattorias and restaurants that reflect the best in regional cuisines. We use restaurants that are committed to seasonal products, sustainable farming, and allow us to indulge in the very best of the local foods and wines. For our wine tastings and food snacks along our routes, we purchase locally grown produce and locally produced delicacies, rather than pre-fabricated processed foods.
We cannot provide an authentic Italy experience to our customers if we do not tread lightly and take measures to preserve and support it. We are constantly mindful of how our actions impact our local hosts, their customs, their culture, their community and their environment.
Lots of laughter and fun!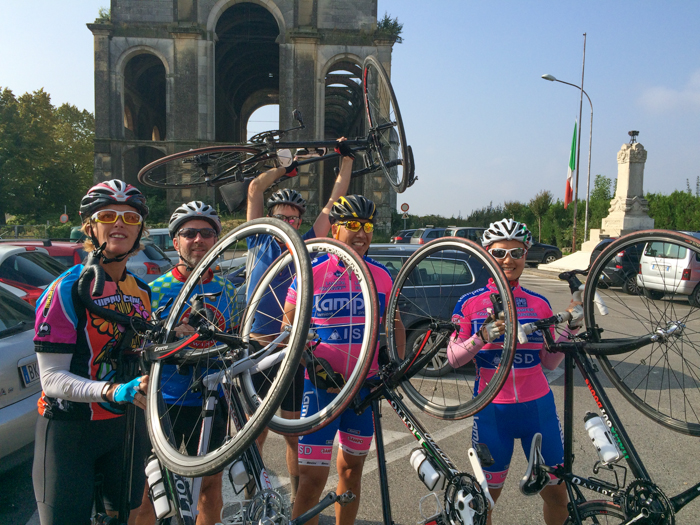 We are traveling in Italy, we pass the day enjoying the beautiful countryside, we spend our evenings exploring the world-renowned foods and wines - and we get to share this experience with our enthusiastic and fun guests! We hope you can join us on one of our distinctive adventures.
Meet Kathy of Italiaoutdoors Food and Wine, and Vernon of Italiaoutdoors, owners and your guides.