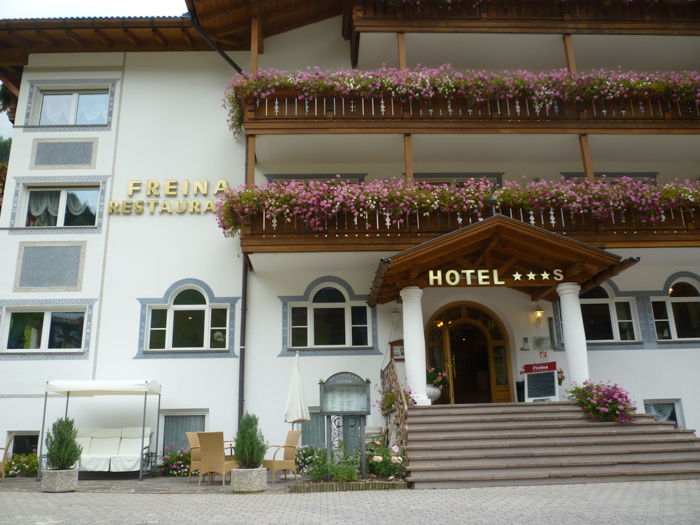 The Dolomite mountains in Northeastern Italy are one of my favorite destinations for our tours, with cycling holidays in the summer time and skiing in the winter. Selva di Val Gardena is one of  the larger resort towns, a ski resort town, but closely located to some of the classic Dolomite climbs popular with cyclists. Many quaint, well maintained Tyrolean chalets nestle in the valley against a backdrop of the spectacular peaks of the Sella massif.

Hotel Freina is just one of these picturesque Tyrolean chalets, located a short walk from the ski lift. You can book a room for a ski holiday or summer hiking escape, but even if you stay elsewhere, its restaurant is worth a visit.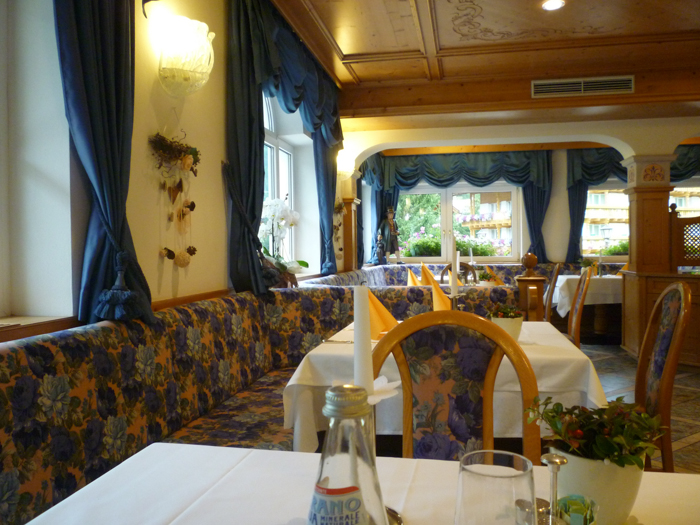 Run by the Kostner-Senoner family, the staff was friendly and welcoming. I enjoyed a very leisurely lunch here in the off-season, one of the few spots that was open. They offer some wonderful local dishes, traditional Dolomite fare like canederli, lots of mushroom dishes, and several local cured meats. Several fresh homemade pasta dishes are available, as well as a large variety of beef and pork options. A six-course tasting menu that is offered nightly for 52E provides a great way to get a feel for a variety of local tastes. Each Wednesday they feature traditional Tyrolean cuisine. Tuesday and Thursday a special fish menu is available, with seafood risottos and fish like branzino and orata, fresh from the Adriatic. Some are served simply, with potatoes and spinach; others with an artichoke crust and semolina gnocchi.

I began with a glass of Kerner from Eisacktaler Kellerei. This is one of my favorite whites from Alto Adige, one difficult to find elsewhere, an incredible fragrant white with flavors of peach and almond, and a nice acidity to balance the fruit.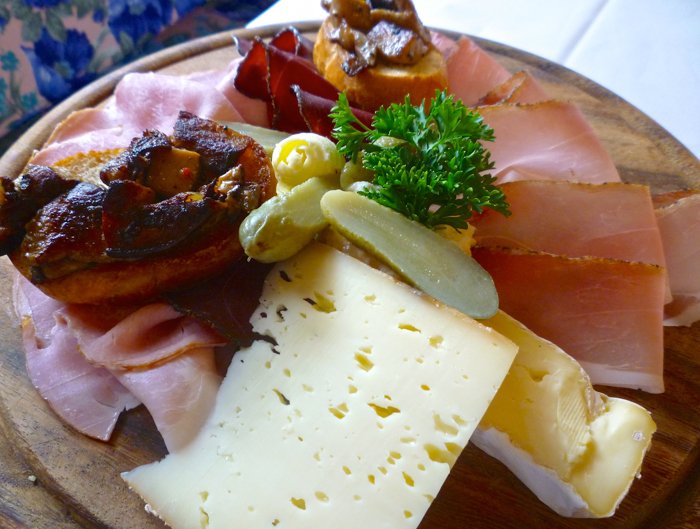 I opted to try several of the most typical Dolomite dishes. A nice option for those who, like me, have difficulty deciding between many antipasti options is the Antipasto delle Dolomite. This included speck tirolese (smoked and cured ham), prosciutto del contadino, which is a local prosciutto, and prosciutto di cervo, a local venison prosciutto.     Local cheeses were advertised, but I don't think brie is local here! My one disappointment with the dish. These were served with a bit of horseradish, shaved butter, and cornichons. A couple of porcini bruschetti topped it all. Plenty here for two.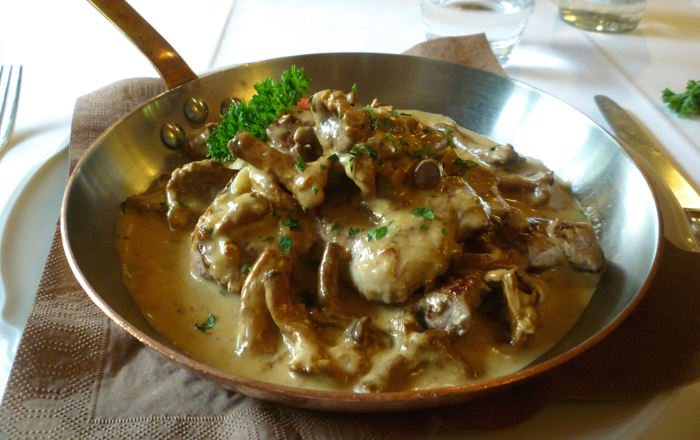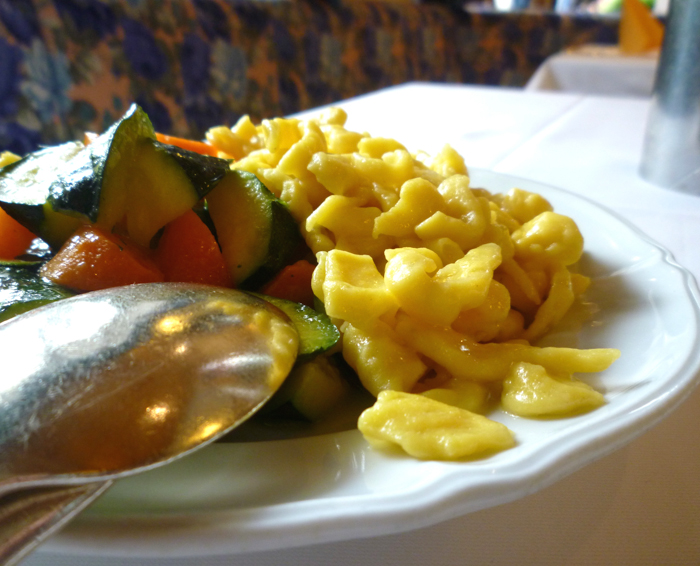 My next course was Filettini di maiale con gallinacci, spatzle al burro, e verdure. This was pork filets with chanterelles, served with spatzle and sauteed vegetables. The pork and mushrooms was served in a small saute pan, with a nice pan sauce. The spatzle and vegetables - carrots and zucchini - were served on a separate plate, again a generous portion. The filettini and chanterelles was wonderful, with plenty of spatzle to mix in with the pan sauce. I also appreciated having the vegetables included; even as simple as these were, rather than having to order the additional contorni.

I chose a Teroldego Rotaliano from Cantina Teroldego, a red that only grows well in a small area outside of Trentino. The Hotel Freina offers a nice selection of wines, with many local varietals available both by the bottle as well as the glass, with Schiava, Lagrein, Kerner, Gewurztraminer varietals, and quality producers like Elena Walch, Hofstatter, and Lageder.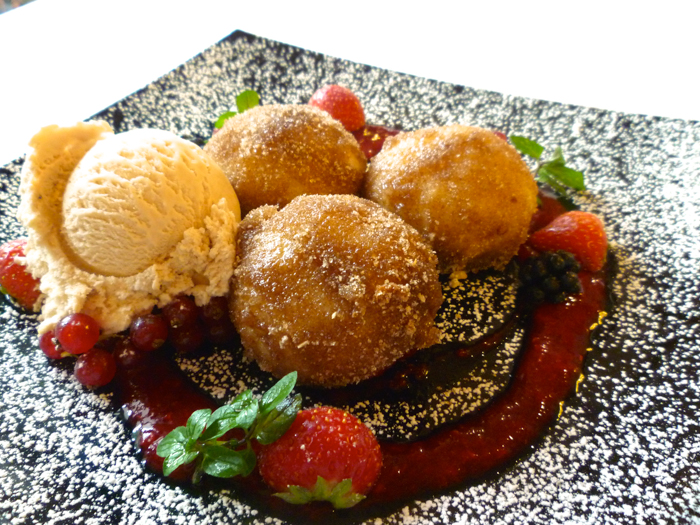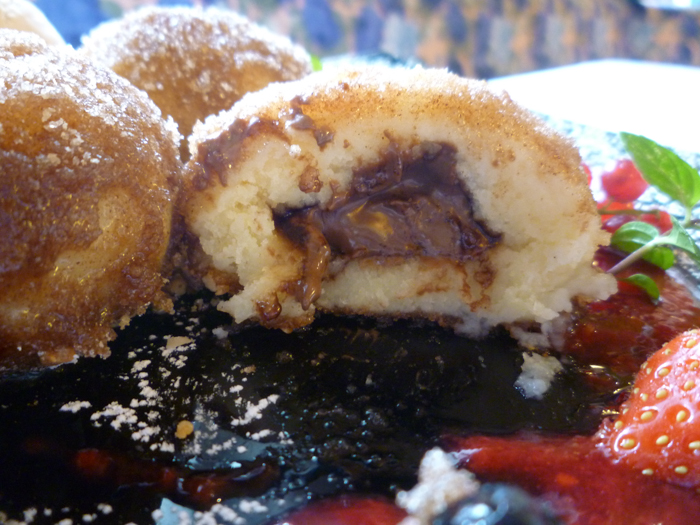 I saved room for the desserts, all made in house. Here was my chance to try a canederli. These dumplings are a very traditional dish which I've enjoyed many times, but I'd never tried a sweet version. My dessert was Canederli di nougat ben guarneto, canederli stuffed with a nutella type nougat with a scoop of hazelnut ice cream. Very attractive, and very good - and again a generous portion with three good sized canederli. My waiter recommended a very special passito dessert wine, and his succession was perfect - a glass of Roen, a blend of gewurztraminer and riesling from Cantina Tramin, a winery I visited last June.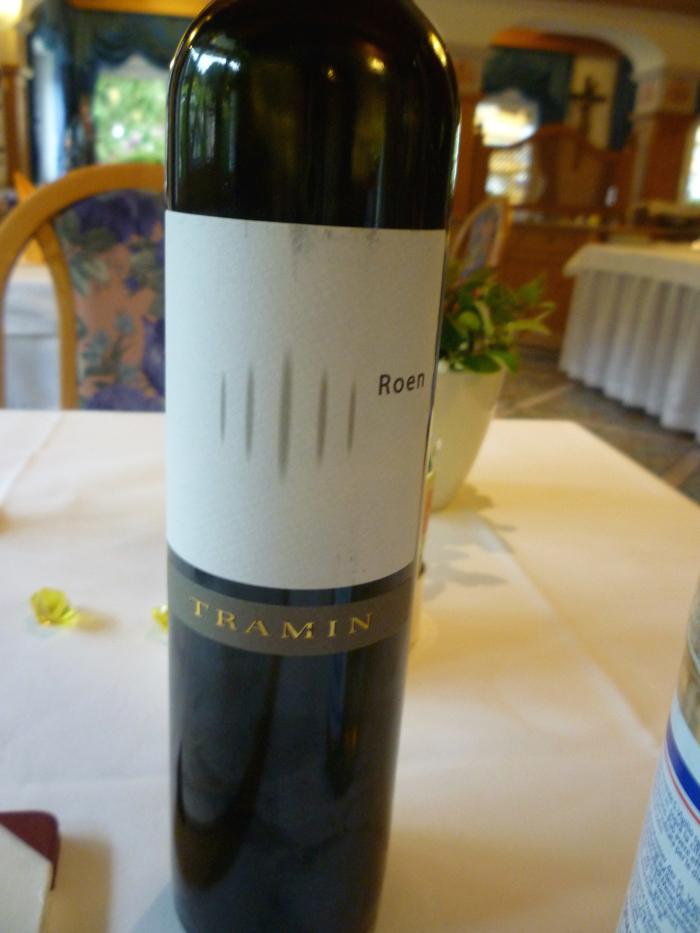 My waiter also suggested I end my meal the true Italian way, with an espresso and a small grappa. He hadn't steered me wrong yet.