Personalized Service and Small Group Size
Explore the Italian countryside as the locals do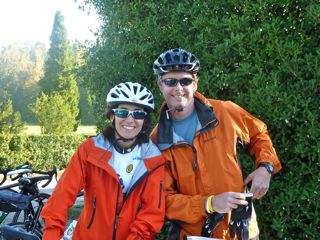 At Italiaoutdoors Food and Wine, our passion is creating uniquely personalized active vacations with a "twist". Each of our distinctive biking, skiing, or hiking programs is customized for your fitness goals and desired activity levels, and complemented by a focus on the food, wine, culture and history of the Veneto, Trentino-Alto Adige, Friuli-Venezia Giulia, and Emilia Romagna regions. We focus our energies on just few select tours that we perfect and redefine on a ongoing basis and personally lead, to provide an exceptional level of regional knowledge and an unforgettable authentic experience. Our philosophy is one of daily program customization, which reflects our participants' fitness level, interests, and desired pacing. We are able to do this because of the small size of each group (4-8 participants; or 12 for private groups), together with our personal oversight and area expertise.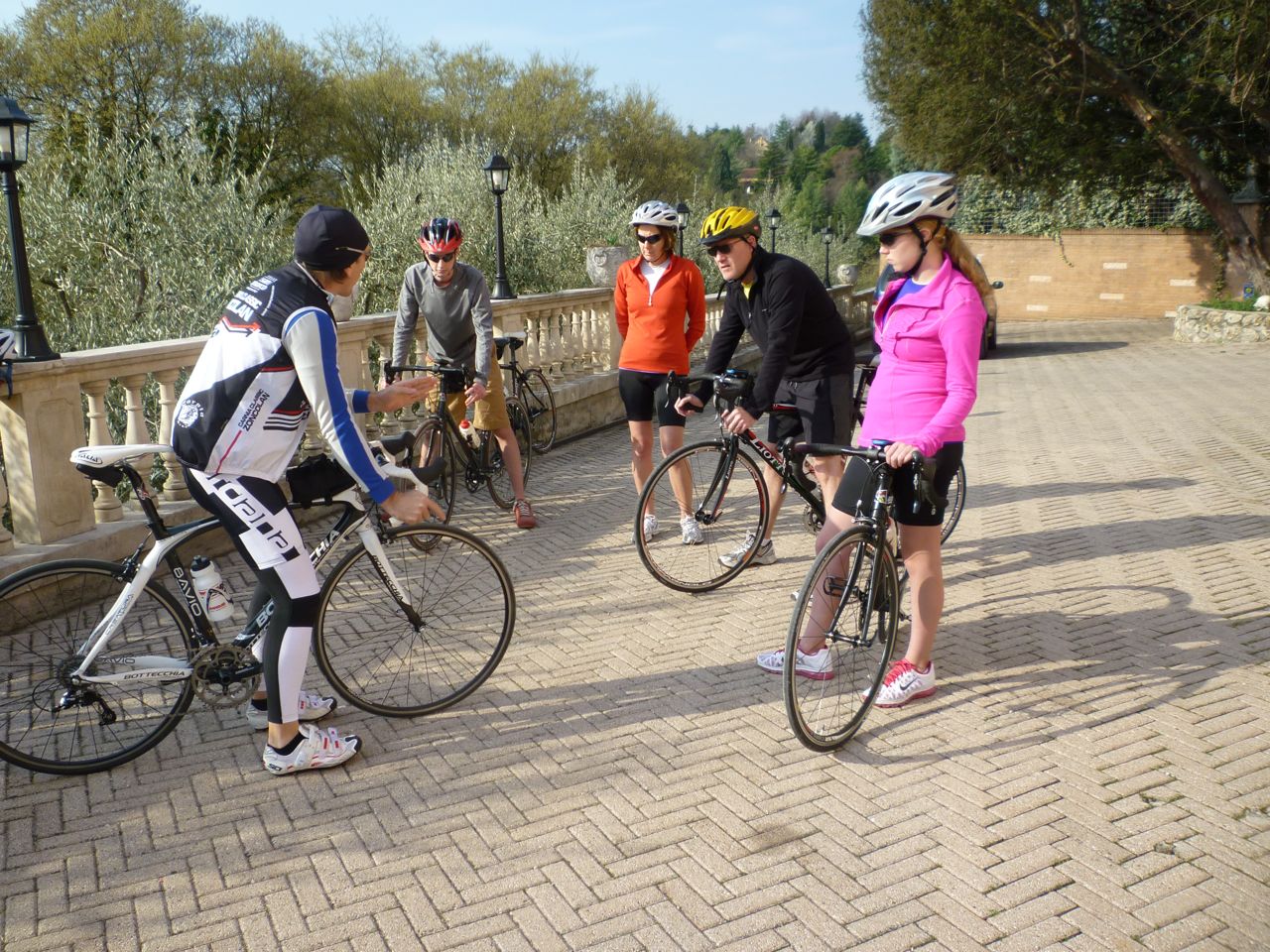 Italiaoutdoors was founded in 2006 by recreational programming expert Vernon McClure. Vernon has more than 20 years of experience in creating highly personalized active tours, providing his guests with an authentic perspective into the history and culture of the regions we explore. In 2010, Kathy Bechtel founded Italiaoutdoors Food and Wine, with the goal of complementing Vernon's fitness and cultural expertise with in-depth explorations into the amazingly diverse food and wines that we discover along the way.
Vernon and Kathy personally lead each and every tour, thus providing every participant with a special and individually crafted travel experience in this beautiful area of Italy.
Italiaoutdoors Food and Wine tours are very different from most bike, ski or hike tours, and we take pride in our differences! Our goal with our unique company is to offer intimate, authentic adventures. Just a few of the things that make us different:
Truly Personalized Service and Customization of Every Trip:
From your first contact with us, you will be talking with Kathy and Vernon - the team that will guide your tour. We'll take care of you from your first email to when we drop you off for your plane trip home. We will know a lot about you, and your dreams for an Italy adventure, before you even arrive.
Industry wide, not all 'private trips' are custom. A private trip offered to your group is usually a standard, pre-planned itinerary run during the dates you wish. A custom trip is a private trip with a unique itinerary, created specifically to meet the fitness goals and varied interests of the individual guests. We design truly custom trips, with Vernon and Kathy listening to your desires about: your daily mileage, terrain, accommodations, budget, and afternoon activities - wine tastings, cooking classes, shopping, city tours, and working personally with your group to develop the trip of a lifetime. Rather than hired guides to lead your trip, Vernon and Kathy will personally be there to insure it runs smoothly, and adapt if it does not.
Learn more about our custom adventures for groups as small as 4.
A Small Footprint: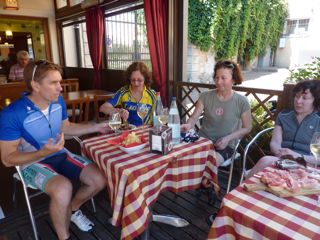 We prefer to be inconspicuous as we lead our tours. We don't have brightly colored support vans with logos following us around as we cycle, we don't have to plan our schedule, menus, dining and venue visits around who and when they can accommodate parties of 15 or more. Our knowledge of the area combined with our small group size gives us the freedom to explore and adapt our adventure in ways that larger groups led by non-owners cannot. This provides us the flexibility and opportunity for spontaneous discoveries - small wine bars, cafes, local producers and farmers. And we don't compromise quality and authenticity because we don't have to! We strive to blend in as much as possible with the local communities we explore.
Green Guiding:
We do have a vehicle to support our rides, but our goal is to use it as little as possible! You should be enjoying yourself on a bike, not riding in a van. If you need the van each day, we haven't done our job in learning about your abilities before, and listening to your experiences during our trip. Vernon will work with you daily to provide you with a route or trail that is appropriate for your abilities. You'll cycle and ski either with us, or on your own, but you will do as the locals do, filling up your water bottle at a roadside fountain, and finding the perfect little cafe to enjoy a quick snack, either roadside or slopeside. If you are looking to ride with a large group from support van to support van, or have your ski days planned weeks in advance, we are not the tour for you. If you are adventurous enough to enjoy a more authentic experience, where our small group size gives us the freedom to experience the local lifestyle, we'd love for you to join us.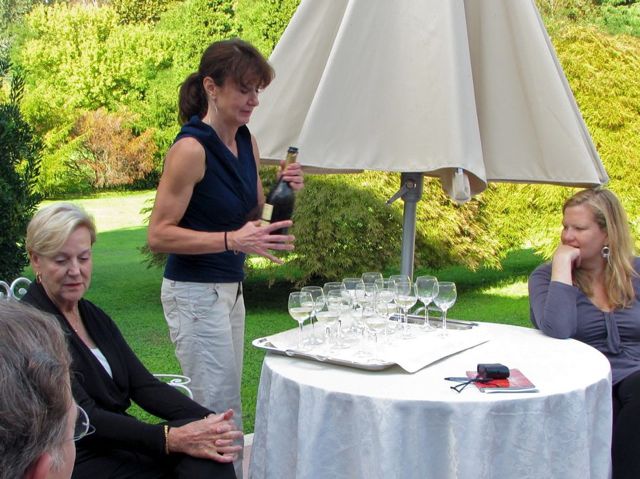 Don't compromise on your next Italy adventure :
Your Activity at your Pace: Your recreational and cultural guide, Vernon McClure, founder of Italiaoutdoors, leads our fitness adventures. Vernon will find the perfect routes for you, from more gentle tourist rides to the most challenging climbs in the Dolomites. We specialize in groups of mixed abilities, or can surprise cyclists returning to the area with new routes or lesser known, but equally challenging climbs.
World-class food and wine program: Explore the amazing regional cuisine and wonderful diversity of wines with your culinary guide, Kathy Bechtel of Italiaoutdoors Food and Wine - a chef and wine certification graduate that specializes in the foods and wines of Northeastern Italy, and believes that a healthy lifestyle should include enjoyment of delicious cuisine.
Hear it from our guests: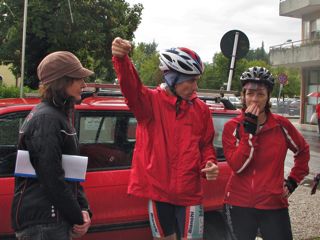 "To see Italy- the real Italy, you must live like an Italian.  On tours with Italiaoutdoors Food and Wine, that is exactly what you get. From the first glass of prosecco on the terrace of the hotel overlooking olive groves, everything immediately feels different; pressures evaporate and adventure, challenges and enormous amounts of everyday culinary serendipity await. Vernon and Kathy supply the framework for the trip of a lifetime leaving just the right amount of time and space for the unexpected."
---- Susan Regis, James Beard Award Best Chef in the Northeast, Upstairs on The Square, Cambridge, MA
Click here to learn more about how we design our tours for groups of mixed abilities.
Don't see a scheduled trip on the dates you can travel? Contact us for latest trip information.

"We can hardly find the words to explain what a fantastic trip this has been. We were looking for a memorable way to spend our anniversary and indeed we found it. Warm fellowships, superb coaching, gorgeous landscapes! Can't wait for the next one!" - B and MH
What is your idea of a perfect cycling, skiing or hiking tour in Italy?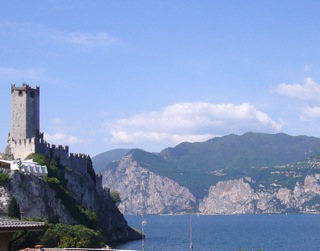 A 7- or even 10- day bike or hike adventure, which includes:
Cycling or hiking through the majestic Dolomites
Bicycling by beautiful Lake Garda
Exploring by bike or foot the wine regions of Valpolicella, Bardolino and Prosecco
Challenging climbs and longer days in the saddle for hard-core cyclists - classic climbs and 100km days

Daily route options for more causal cyclists - our local expertise enables us to accommodate mixed groups

Rewarding yourself with the best in local foods and the wonderful, undiscovered wines we find around each corner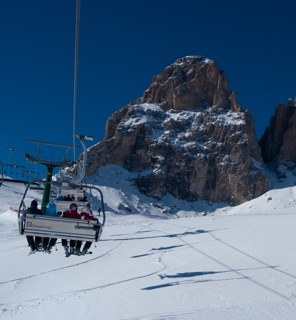 A winter time escape to the majestic Dolomites to ski, snowboard, snowshoe, or winter hike.
Customize your ski holiday - our local expert Vernon will suggest the best activities and destinations for each day.
Home to some of the best skiing in Italy
More Michelin star restaurants than any other region in the country.
Wines from Trentino Alto-Adige are also quickly gaining a worldwide reputation for quality.
City visits to Venice, Bolzano, even Trieste
The perfect active winter escape - fantastic skiing, city culture, and world-class food and wine.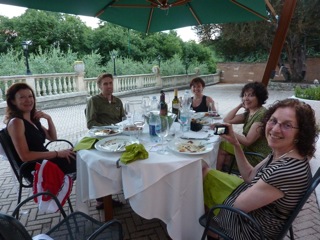 A week long, stress-free Italian escape:
Exploring the Italian countryside by bicycle or foot
Cycling, hiking and other daily activities customized to your pace


Cooking classes

Wine tastings

Great restaurants with the best in local cuisine

Your home for the week is a friendly family-run Locanda
To sign up, join our mailing list, or just ask a question, send us an email. We personally work with each and every guest to answer all questions, and make sure our trip is customized to your abilities and preferences. We're also happy just to chat, and hear how you would like to travel.
Learn More: