What Types of Routes Do We Cycle?
Cycling with Italiaoutdoors Food and Wine is a bit different than with other bike companies. Rather than expecting all of our guests to cycle a predetermined route, we adapt our routes to fit you, our guests. We specialize in supporting mixed groups, where cyclists of all levels can enjoy their biking adventure in Italy.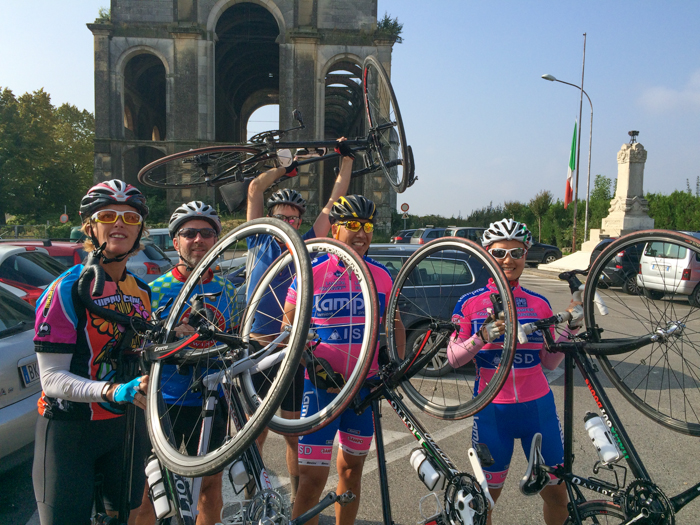 How do we do this?
Through thoughtful route design, pre-trip conversations with each and every guest, and leading each and every tour ourselves.
Vernon working with guests

We carefully select our routes, striving to offer a mix of terrain options whenever possible. A tour in Trentino-Alto Adige could have some cyclists riding down the bike path along the Sudtirol wine road, while others in the group wear themselves out in some of the steeper terrain just to the west, and rejoin the group for the last few miles to our destination.
Our biking itineraries are all developed by Italiaoutdoors founder Vernon McClure, who has been leading cycling tours and biking these roads for 20 years. Vernon daily evaluates the group and drawing on his expert knowledge of the area, selects the perfect path for each guest. Vernon also runs daily coaching clinics, instructing our guests on how to shift gears, climb hills, descend, and generally make them better and safer riders.
Vernon leading cycling clinic

We begin before you even arrive in Italy, getting to know each guest on our trip; how you like to ride, what would be your ideal trip. You'll email, chat on the phone, even skype with Vernon and Kathy to learn how we can best design the trip for you.
We run the tours ourselves, rather than hire guides and hand them a fixed itinerary, or subcontract to another company. This way, we can adapt on a daily basis to fit the mood and abilities of the group.
We offer GPS guidance, so you can ride at your own pace, explore on your own, even deviate from the route, and find your way to our next destination.
We have a support van, but believe if we do our job right, you won't be riding in it. You've come to bike, not to ride in a van.

If your group is made up of different types of cyclists, This email address is being protected from spambots. You need JavaScript enabled to view it. and learn how we can create a trip that meets the needs of all!